Fiber Laser Welder
Fiber Laser Welder LW-F300 / LW-F1000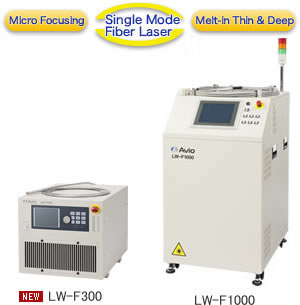 <New Product>
Air-cooled, Space-saving Desktop Model LW-F300
Most Suitable for Al, Cu and Ultra-precision Welding!
This is a single mode fiber laser welder with high quality beam spot. It realizes fine laser welding.
Highly Reflective Material can be Welded as Well
High energy density, high quality single mode laser
Stable Welding Even during Ambient Temperature Change or Immediately after Start-up
Steady output is achieved by optical power digital feedback control
For Seam Welding, High Speed Welding
Continuous output of preset waveform is available
Minimize Influence from Work Height Change
Long depth of focus enables vertical incidence
Low Power Consumption Contributes to Energy Saving
Laser oscillator of low power consumption structure using a long life single emitter laser diode
Major Applications
Exciter Source
Laser Medium
Welding of Metal (difficult to work material such as aluminum and copper)
or Micro Components
Laser Diode
Optical Fiber
Oscillation Waveform
Arbitrary Waveform
Pulse Waveform
Continuous Waveform
Beam Profile

Thin and Deep Melt-in by Micro Beam Spot Diameter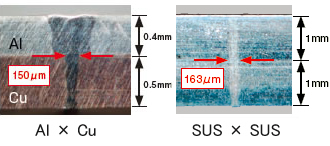 Beam Profile (Measured by Beam Profiler)

Lineup
Items
LW-F300
LW-F1000
Max Rated Power
300W
1000W
Application

Welding of thin plate of aluminum and copper
Welding of micro work piece

Example:
welding of metallic components for rechargeable battery or fuel cell

Welding of plate or laminated foils of aluminum and copper
Welding of micro work piece

Example:
welding of metallic components for rechargeable battery , inverter or power device
Features
Space-saving Air-cooled, Desktop Type
High output power which enables welding of various materials
Welding Image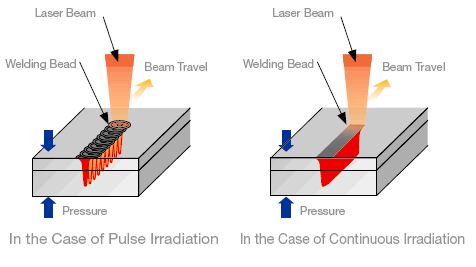 Oscillator Structure

Normal Incidence to the Work is Possible
As the generator has a structure that is resistant to reflected light from the work, it prevents operation stop or failure caused by the reflected light.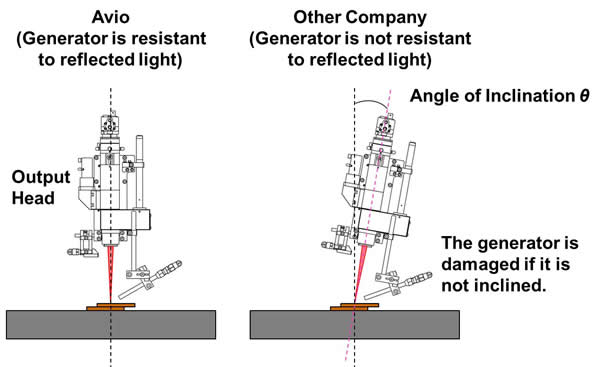 Various Laser Output Waveform Control
Minimum 0.1msec step setting
Equipped with seam welding mode
High speed repetitive output with maximum 5,000Hz frequency
Color graphic display of preset and output value
Waveform Control Display
Specifications
Items
LW-F300
LW-F1000
Wave Length
1070nm
Max Rated Power
300W (Class 4)
1000W (Class 4)
Max Frequency
5000Hz
Output Mode
Arbitrary waveform(Single,Repeat,Seam),CW,Analog control
Profile mode (arbitrary waveform, CW), Stylized waveform mode, Rectangular pulse mode (modulated)
Monitor Display
Laser power(W), Laser energy(J), Average power(W)
Alarm Function
Laser power, Temperature, Electric current, Fiber breakage
Cooling Method
Air
Water *1
Power Source
AC200-240V ±10% 1Φ 50/60Hz
AC200V ±10% 3Φ 50/60Hz 30A
Max Power Consumption
2.6kW or less
6kW or less
Dimension / Weight
W410 x D600 x H370mm (excluding protrusion) Approx. 58kg
W650 x D865 x H1150mm (excluding protrusion) Approx. 180kg
*1: A chiller will be separately required. We have a suggested model.
Option
Galvano Scanner System AGS-F301/AGS-F302
<New Product>
Galvano Scanner System AGS-F302 for LW-F300
By combining the Galvano Scanner System with Avio' air-cooled single-mode fiber laser welder LW-F300, optimum welding can be provided for various types of works.
Wider welding area (150 mm square) is obtained.
High speed 2,000 mm/sec scanning of the laser beam, which is continuously emitted from the fiber laser welder (CW)
Little thermal strain and thermal damage to neighboring parts by scanning the welding point at high speed
By combing thin and deep penetration of a single mode fiber laser with horizontal operations of Galvano Scanner, such as Spiral or Circular (moving horizontally while drawing), wide bead welding becomes available and the strength of the welded point increases.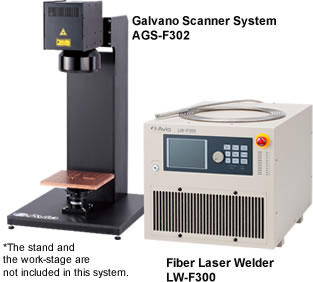 System Configuration
(1) Scan Head
(2) Control Box
(3) Control PC, PC Monitor, Dedicated Software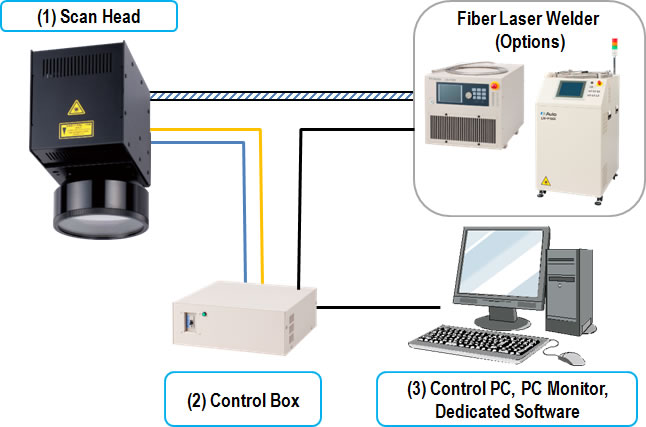 Galvano Scanner System Specifications
Items
AGS-F301
AGS-F302
System Configuration *1
Scan Head *2, Control Box, Control PC, PC Monitor, Dedicated Software
Scan Area
150 x 150mm
Max Scan Speed
2000mm/sec
Work Distance
374mm
Control Method
Digital Control
Welding Mode
Spot Welding Mode, CW Welding Mode, Seam Welding Mode
Applicable Laser Model
Single Mode Fiber Laser Welder LW-F1000
Design Wavelength: 1070nm
Permission Laser Power: Max CW 1000W
Single Mode Fiber Laser Welder LW-F300
Design Wavelength: 1070nm
Permission Laser Power: Max CW 300W
Cooling Method
Water
Air
Operating Range of Temperature and Humidity
Temperature: 0 - 40 °C, Humidity: 80% or Less (No Condensation) *3
Power Source
AC100 - 240V ±10% 50/60Hz
Max Power Consumption
180W or less *3
Dimension / Weight
Scan Head: W150 x D436 x H241mm 11kg (Not Including Cables)
Control Box: W300 x D310 x H123mm 7kg *3
Scan Head: W138 x D200 x H240mm 7.3kg (Not Including Cables)
Control Box : W300 x D310 x H123mm 7kg *3
*1: The stand and the work-stage are not included in this system.
*2: AGS-F301 Including collimation lens and fθ lens / AGS-F302 Including fθ lens
*3: Not including control PC and PC monitor
Output Head with Camera
Compact and lightweight design
Combined with the observation system unit, a welding positioning can be easily done
Allows customizing welding as required by a variety of applications
For LW-F300
For LW-F1000
Caution
Our laser welder products comply with the "Safety of laser products" of Japanese Industrial Standards and the "Preventive measures against interference by laser beam", a notice from the Ministry of Health, Labour and Welfare.
When using a laser welder, please make sure to follow the instruction manual and label or caution note displayed on or attached to the product.
Laser Beam
Our laser welder products correspond to class 4 laser. Make sure not to have the beam emitted from the laser welder get directly into your eyes.
Even the reflected light or the scattered light is very dangerous. Be careful not to have the light get into your eyes.
In case the laser beam is irradiated on human body, there is a possibility for a serious interference to be caused. Be sure to wear a laser protection gear within an area where the laser beam may reach you.
Do not irradiate laser beam into the air. Be sure to terminate.
Do not irradiate laser toward an inflammable object. A fire may be caused.
High Voltage
When replacing a flash bulb or removing the power supply cover, turn the power OFF and wait for 5 minutes before doing so.
Be sure to ground the ground terminal of the chassis.
Handling of Laser Welder
Appoint a laser safety administrator.
Establish a laser controlled zone for safety control.
Never modify the equipment.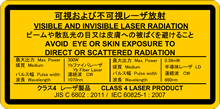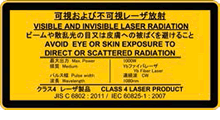 Laser Welder
Click the "Contact Us" button on the right.
(for dealer information, sample test or technical consultation)
Our Fiber Laser Welder products (LW-F300, LW-F1000) are subject to Japanese Export Control Law. Depending on its destination, prior assessment and authorization may be required. When exporting from country of initial purchase destination, please be sure to follow that country's export regulations as it may require an export permit beforehand.