Pulse Heat Fusing Unit
Handy Type Pulse Heat Fusing Unit
Handy Type NCU-10U/T/H
Temperature Feedback Prevents Cobwebbing of Plastic!
Cooling Function
Because the process ends with the plastic solidified, stable fusing without cobwebbing can be achieved
Temperature Feedback Function
Temperature variation due to environmental change or passage of time is restrained
Stable welding by temperature feedback (Plastic sputtering or crack, as in the case of ultrasonic joining, will not occur)
Easy to Transport Handy Type
We can Propose the Most Suitable Heater Tip Based on Our Ample Experiences
Heater tip material most suitable to the work material
Flat type, special coating, etc
Examples of Plastic Materials Suitable for Pulse Heat Fusing
ABS, AES, AS, ASA, PBT, PC, PE, PMMA, PP, PPO, PS, POM
Please inquire separately for other plastic materials and glass fiber-containing plastic materials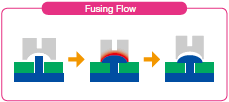 Items
NCU-10U
Heat Temperature
Main : Room temp. - 499℃
Idling : Room temp - 299℃
Heat Time
0.1 - 9.9 sec (0.1 sec step)
Power Source
AC100V ±10% 1Φ
(Option : 200, 230V)
Compressed Air
0.4MPa or more
Dimention / Weight
W200 x D302 x H90mm ≈3.5kg
| Items | NCU-10T |
| --- | --- |
| Rated Power | 150VA |
| Output Voltage | 1.75V, 2.5V, 3.5V |
| Dimention / Weight | W100 x D150 x H120mm ≈3.4kg |
High Power Type Pulse Heat Fusing Unit
High Power Type NCU-15/NT-15
High Power Type Suitable for Incorporation into a System!
Multi-Heads can be Accommodated
Multi-point simultaneous fusing can be realized
Compatible to Large Capacity Transformer for Automated System
Compatible to two types, NT-15 (1,500VA) and NT-35 (3,000VA)
Pen Type Head Suitable for Automated Systems
Small head (head width 18mm, 21mm, 26.2mm) applicable to narrow pitch With an air cooling port
We can Propose the Most Suitable Heater Tip Based on Our Ample Experiences
Heater tip material most suitable to the work material
Flat type, multi-point simultaneous heater tip, special coating, etc
After Heat Helps Easy Separation of Plastic and the Heater Tip
Multi Head System

As the number of head will vary depending on the application, please consult with us
There will be only one feedback line
All weld cables have the same length
Pen Type Head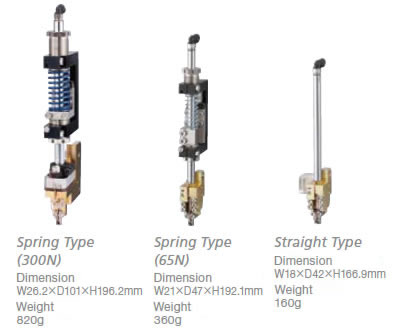 Items
NCU-15
Heat Temperature
Main : Room temp. - 499℃
After-Heat : Room temp - 299℃
Heat Time
0.1 - 9.9 sec (0.1 sec step)
Power Source
AC200V ±10% 1Φ
(Option : 100, 115, 230V)
Compressed Air
-
Dimension / Weight
W200 x D302 x H120mm ≈4.1kg
| Items | NT-15 | NT-35 |
| --- | --- | --- |
| RatedPower | 1500VA | 3000VA |
| Output Voltage | 1.0V, 2.0V, 3.0V | 1.0V, 2.0V, 3.0V |
| Dimension / Weight | W160 x D220 x H200mm ≈14.2kg | W200 x D270 x H220mm ≈25kg |
Click the "Contact Us" button on the right.
(for dealer information, sample test or technical consultation)