Micro Joining Equipment
Information
Click the "Contact Us" button on the right.
(for dealer information, sample test or technical consultation)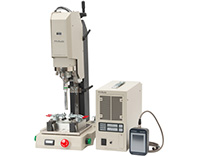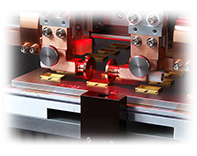 You can find the desired product using the "product/model name", "joining method" or "application" as a keyword.

Six principles of micro joining, each with its unique features, are explained with motion pictures for easy understanding.

Actual examples of micro joining are introduced by video and images.

We will be pleased to test your sample with our proposed joining method, and return it with a report.


Web conferencing system for welding test and technical consultations!
Introduction to Avio micro joining equipment
Nippon Avionics is promoting businesses utilizing four unique micro joining technologies.
Resistance welding technology for joining metal to metal.
Pulse heating (hot bar bonding) technology for soldering electronic components.
Seam sealing technology for welding a lid onto a case containing electronic components.
Laser joining technology, applicable to a wide range of usages, including soldering and plastic welding.
Ultrasonic equipment for resin welding, resin melt cutting, resin cutting, metal joining and food cutting
High-frequency induction heater unit for non-contact heating of metal using electromagnetic induction
It is extensively used for assembly of electronic equipment and electronic components.
Features of resistance welder
It is used for welding of electronic components and car electronics.
The welding power supplies available are AC type, capacitor discharge type, inverter type, transistor type and a unique hybrid (DC+inverter) type which is most suitable for battery tab welding.
Application examples
Fusing welding of winding wire of small motors used in automobiles or mobile phones.
Insulated wire welding of electronic components, such as resistor, capacitor, coil, transformer and IC card.
Resistance welding of solar battery, lamp, connector, switch and battery tab.
Resistance welding of ECU, EFI, air bag and other car electronic items.
Resistance welding of various sensors, such as printed wiring board, gas sensor, temperature sensor, magnetic sensor, pressure sensor, strain sensor, ultrasonic sensor and acceleration sensor.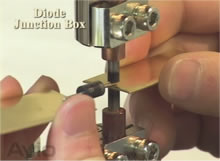 Features of pulse heat unit (hot bar bonder)
It is used mainly in soldering and thermo-compression joining.
Application examples
Heat seal joining and ACF joining for flat panels, such as LCD and touch panel.
Soldering of CCD or CMOS used in mobile phones and digital cameras.
Soldering of FPC and printed wiring board inside a PC or a video camera.
Soldering of insulated wire for HDD or manufacturing of AV equipment, such as the DVD player, or home appliances.
Gang soldering of ground bar of ultra fine wire co-axial cable.
Soldering in cell assembly of solar battery.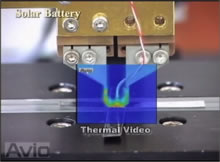 Features of seam welder
It is used for hermetic sealing of electronic components.
As the sealing equipment, we are offering a variety of products including seam welder, vacuum seam welder and solder sealing equipment, from manual to full auto machine.
Furthermore, we are also offering various can sealing equipment.
Application examples
Crystal devices
MEMS devices (acceleration sensor, gyro sensor, etc.)
SAW devices
Optical devices (semiconductor laser, image sensor, etc.)
Semiconductor devices (LSI, HIC, etc.)
Features of plastic fabrication equipment
It is used for plastic fusing or plastic welding in the automobile, electric and electronic, medical and food industries.
Application examples
Bumper, instrument panel, fender, door trim, air duct, key-less entry etc. in the automobile industry.
Mobile phone, relay, printer, CMOS camera, eye glasses, etc. in the electric and electronic industry.
Catheter and components of equipment in the medical industry.
Container, such as the bottle, cup and plates and packaging related items in the food industry.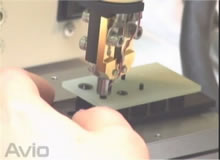 Features of laser joining equipment
It is extensively used in the applications utilizing the advantage of a non-contact method.
Application examples
Soldering of electronic components
Welding of plastic components