Camera module assembly
Features of pulse heat joining (hot bar bonding)
When soldering or thermo-compression joining of flexible circuits, such as the TAB or the FPC, highly reliable joining can be realized without lifting up or misalignment by employing the pulse heat method where heating and cooling are conducted while the pressure is being applied.
When the connection pads are arranged in matrix form, the joining area becomes large, and uniform heat and pressure distribution will be important.
Because of the local heating, thermal damage to the camera sensor can be kept minimum.
Mobile phone/module mounting
Camera module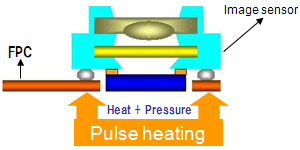 Joining of camera and the FPC (driver circuit)
CMOS or CCD image sensors mounted on mobile phones or digital cameras become camera modules when they are gang soldered onto a FPC by the pulse heating method.
Applicable machine models
Sample test
We will be pleased to test your sample with our proposed joining method, and return it with a report.
Click the "Contact Us" button on the right.
(for dealer information, sample test or technical consultation)