ACF (Glass + FPC) Thermal Compression Bonding
Joining Method: Thermo-compression Joining
Features of Pulse Heat Joining (Hot Bar Bonding)
Pulse heat method is an instantaneous heating system where heating is made only at the time of compression bonding. The heat absorbed by the work can be recovered instantaneously by the temperature feedback function, realizing the temperature profile as previously set.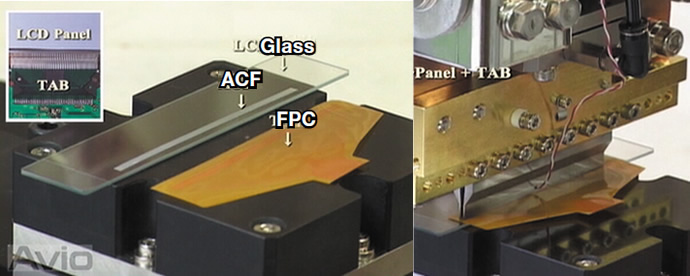 ACF (Glass + FPC) Thermal Compression Bonding
Because pulse heat method can prevent lowering of temperature due to radiation by its temperature feedback function, it can thermoset the ACF more efficiently comparing to the constant heating type. Pulse heat method, where temperature can be controlled, is effective in the pre- bonding process in particular.
Furthermore, because the thermosetting process comes after the force application process, misalignment of ACF or non-connection of conductive particles can be prevented.
Related Video
Please be careful for the volume adjustment as this movie contains sound.
Applicable Machine Models
Sample Test
We will be pleased to test your sample with our proposed joining method, and return it with a report.
Click the "Contact Us" button on the right.
(for dealer information, sample test or technical consultation)