Soldering of FPC to PWB
Joining method : Soldering
Features of pulse heat joining (hot bar bonding)
Pulse heating unit controls temperature of heater tip by feeding back tip temperature and heating time. It has heating and cooling process. Cooling process prevents solder wicking after heat and it is suitable for solder bonding.
Soldering of FPC to PWB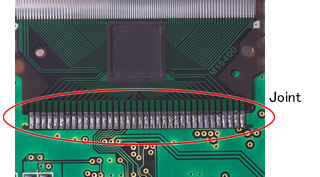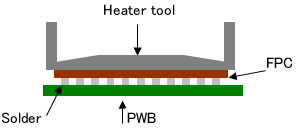 Soldering of FPC/FFC and PWB
Soldering of FPC/FFC on PWB, which is indispensable in electronic assembly, is achieved. Soldering of FPC to FPC is also possible.
Related video
Please be careful for the volume adjustment as this movie contains sound.
Applicable machine models
Sample test
We will be pleased to test your sample with our proposed joining method, and return it with a report.
Click the "Contact Us" button on the right.
(for dealer information, sample test or technical consultation)