Productivity and yield ratio of metal package sealing are desired to be improved
Multi-purpose automated seam welder
Challenge:
Although it is a multi-device production, production cost must be
kept low at the same time.
Productivity/yield of PKG sealing is desired to be improved.
Background
Since general-purpose machines requires separate processes (equipment) for tack welding and main sealing, and initial investment and manpower are required.
In addition to being expensive, automated machines cannot handle a wide variety of products.
Leaks occur due to lid misalignment and poor welding.
It takes long time to switch product types.
Avio's Solution:
You can solve it by introducing general purpose automated seam
welder NAW-6100 / NAW-6000.
Various device can be produced with small investment.
Point
Low cost


Lid mounting, tack welding, and sealing can be automatically executed with one machine.
(Small equipment, controlled labor cost)
Small general purpose machine is affordable at low cost.
(Control investment cost)

Supporting multiple products


Applicable from 2mm to 150mm PKG size.
For flat Lids, cap lids, and lids with window.
Simple operation allows quick work type change and teaching.
It significantly improves PKG sealing and reduces joining failure, which contributes to productivity improvement.
Point
Automated placement of lid at industry leading accuracy ±0.035mm (25x25mm PKG).

High speed seam is available 10mm/sec.
Equipped with a high-performance welding controller that reduces heat storage and
suppresses cracks for flat Lids, cap lids, and lids with window.


Minimum stress due to split sealing.
Welding start position, end position, rest time, electrode width can be set arbitrarily (coordinates specified), and welding can be performed under optimum conditions according to the work piece.

Applicable models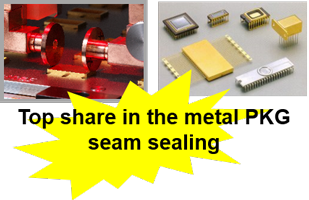 Related products
Sample Test
We will be pleased to test your sample with our proposed
joining method, and return it with a report.
Click the "Contact Us" button on the right.
(for dealer information, sample test or technical consultation)