Aluminum wire and copper terminal are desired to be joined together in high quality
Ultrasonic metal welding machine most suitable for joining different material, such as aluminum and copper
Challenge:
Strong welding result is desired by welding of dissimilar material of Aluminum and Copper.
Background
Due to increasing demand of weight reduction for automobiles, the harness material has been replaced from copper wire to aluminum wire. Aluminum has a strong oxide film and is not suitable for soldering. Also, when Aluminum is welded with copper by laser welding or resistance welding, fragile metal compounds are formed which causes cracks, and ends up in insufficient strength.
Avio's Solution:
Ultrasonic metal welder SW-3500-20 will provide solution.
It suppresses the formation of fragile intermetallic compounds, and achieves highly reliable welding.
Point
1. Destruction of Oxide film
Ultrasonic vibration and head pressure promote friction and plastic deformation at the interface, and destroy the oxide film on the surface.
2. Solid phase diffusion junction
Solid-phase diffusion bonding is performed at 30% to 50% of the melting point of the base metal, which suppresses the formation of intermetallic compounds.

It allows you to achieve highly reliable bonding between different material of Copper and Aluminum which is highly deformed during welding.
Point
1. Unique function
The spring pressure follow-up function suppresses the slip of the work and reduces the loss of ultrasonic energy.
2. Frequency auto-tracking
It provides stable ultrasonic vibration with quick rise even under high pressure.
3. Excellent welding management
You can select the control mode matching the work, and perform various monitoring and data communication.
Applicable models
High Performance Depth Control
The 1um resolution linear scale allows you to detect accurate sink amount of the work and height of the work, by which oscillation is controlled in conjunction with the detected values.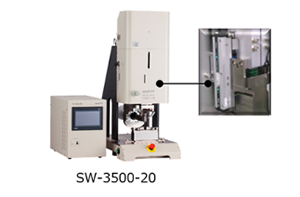 Operation Screen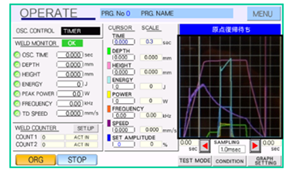 Related products
Sample Test
We will be pleased to test your sample with our proposed
joining method, and return it with a report.
Click the "Contact Us" button on the right.
(for dealer information, sample test or technical consultation)