Joining quality in fusing is desired to be improved
Fine control resistance welding machine that achieves stable finish
Challenge:
In fusing process,


・Wire break by over flattening/insufficient flattening and conduction failure need to be reduced.

・Thermal cutting is desired to be restrained when work is combination of thin terminal and thick wire.
Background
If the finishing dimensions of the terminal after fusing are unstable, it may cause disconnection or connection failure. When a work is in combination of thick wire and thin terminal, heat generation
may be unbalanced and the terminal may melt.

Avio's Solution:
By using the inverter type resistance welding controller
that realizes fine control, welding quality is improved.
Stable fusing is realized by homogenizing finishing dimensions and generating well-balanced heat.
1. High-speed, high-precision displacement control provides a current-stop function to achieve stable finished dimensions.
When the preset finish dimension is reached, welding current is forcibly terminated.
Variation of power interruption time 1 msec or less.

2. Optimum heat balance is achieved by the Pulsation Function
(Fine control of welding time and output).
By max. 127 steps of current control, it gradually heats up to remove the insulation, and reduce fusing (cutting).

Fine control for stable fusing.
Point

1. Accurate weld stop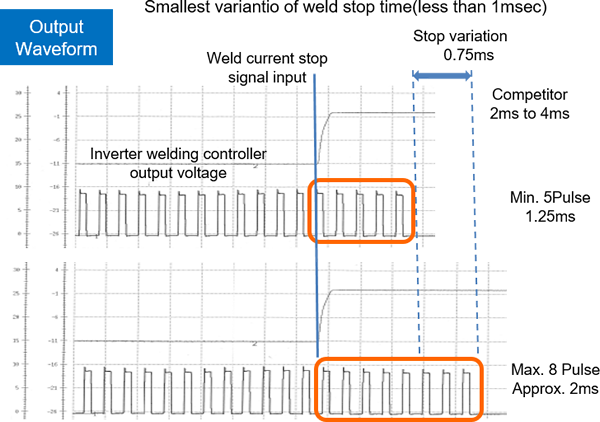 2. Displacement control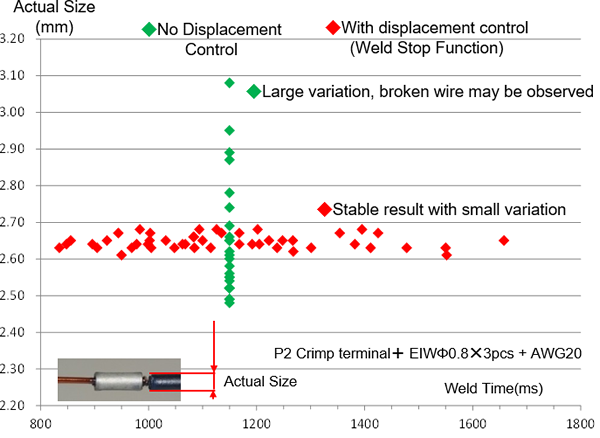 Applicable models
Related products
Sample Test
We will be pleased to test your sample with our proposed
joining method, and return it with a report.
Click the "Contact Us" button on the right.
(for dealer information, sample test or technical consultation)