Welding strength at the connection joint of copper alloy hoop material is desired to be improved
Ultrasonic welding machine is most suitable for joining of copper alloy material
Challenge:
Welding strength at the joint of copper alloy hoop material
by resistance welding is unstable.
Background
It is becoming popular to use Colson copper, which belongs to copper alloy family, as the hoop material for ultra-narrow pitch connector.
In the case of resistance welding, welding strength tends to be insufficient leading to disconnection of the once welded reel, which is one of the reasons for lowering of productivity.
※Colson copper (copper alloy)
It is a special copper alloy with high electric conductivity and superiority in strength which makes this alloy suitable for bending work. As the information devices get smaller, thinner and highly functional, this alloy is widely used for connector terminals and lead frames.
Avio's Solution:
By using ultrasonic metal welding machine, joint strength
can be enhanced.
As a result of improvement and stabilization of the joint strength, improvement of productivity and reduction of failure cost can be realized.
Point
Solid-phase welding by ultrasonic metal welding machine realizes stable joining of copper alloy material.
Separation of the welded section can be lessened leading to stable operation of the production line.
Wearing of the horn (a part which contacts the work) is reduced, which contributes to cost reduction by reduced maintenance time and replacement frequency.
※In resistance welding (fusion joining), it is extremely difficult to fuse the joint interface only.
Insufficient fusing: Weak joint strength
Over fusing: Copper alloy and the electrode stick together (Cleaning and replacement frequency
of the electrode will increase)
There are things that only Avio, being a manufacturer of both ultrasonic welder and resistance welder, can understand.
Point
1. Price
While the price of ultrasonic metal welding machine has been high, making the users difficult to introduce the machine, development of small sized ultrasonic metal oscillator and development of ultrasonic welding head for hoop material will enable us to offer the capability to customers at a more reasonable price level.
2. Optimum fabrication technique is recommended
Uniform comparison standard.
Advantages and disadvantages can be clearly stated.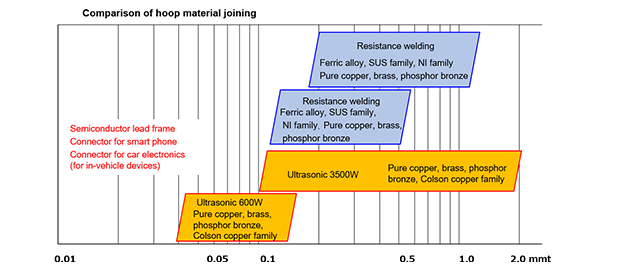 Applicable models
Related products
Sample Test
We will be pleased to test your sample with our proposed
joining method, and return it with a report.
Click the "Contact Us" button on the right.
(for dealer information, sample test or technical consultation)