What is the optimum technique for plastic crimping?
Ultrasonic welding VS Pulse Heat (Hot Bar)
Challenge:
What is optimum welding method for plastic caulking?
What are merit and demerit for "ultrasonic caulking"
and "heat caulking"?
Background
There are ultrasonic caulking and heat caulking for the plastic caulking. However, it is not clear which is the most suitable method.
We would like to know difference between both methods, as well as their merit and demerit.
Avio's Solution:
There are merit in each method.
Avio is happy to propose based on customer's needs.
Please feel free to consult us!
We propose an optimum method from our existing know-how, result of sample test for you.
Point
We have both pulse heat (heat caulking), ultrasonic calking. Therefore, we can propose optimum method from judgement based on fair standard and point of view.
We propose solutions which fit customer's needs.


Proposal of optimum method
Design and manufacturing of heater tip, horn with the most suitable shape
Consulting for customer's needs such as multi-point caulking, automation, traceability enhancement, etc
Merit and demerit of "ultrasonic calking" and "heat caulking".
Point
1. Ultrasonic caulking
Feature
Peak power control (External sensor control is available such as displacement)
Merit
Cycle time is fast
Less cobwebbing (Low temperature welding).
Minimal heat effect on peripheral parts
High strength (Clearance is easy to be filled).
Applicable to large size boss (Double-mount type caulking)
Reason for Choice
Cycle time
Welding strength
Boss size guide (Φ2mm or larger)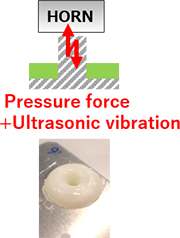 2.Heat caulking
Feature
Temperature control (Displacement control available)
Merit
Beautiful finishing appearance
Less cobwebbing (cooling is maintained)
Little heat and vibration effect to surrounding components
Quiet sound
Applicable to small size boss
Reason for Choice
Finishing appearance
Effect (stress) to surrounding components
Boss size guide (Φ4mm or less)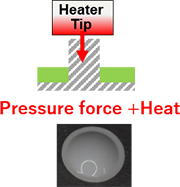 Applicable models
Related products
Sample Test
We will be pleased to test your sample with our proposed
joining method, and return it with a report.
Click the "Contact Us" button on the right.
(for dealer information, sample test or technical consultation)