Press punching of plastic molded part is desired to be achieved easily
Ultrasonic vibration can make plastic punching easier
Challenge:
In hydraulic press machines that are mainly used;
・ Bulky machine occupies large space.
・ Works are warped and deformed by high pressure force.
Background
The hydraulic press is too large (pressure and space wise) for secondary process to make small punch after plastic molding.
The work is damaged by the stress of the hydraulic press. Also, burrs and cracks may occur on the cross section.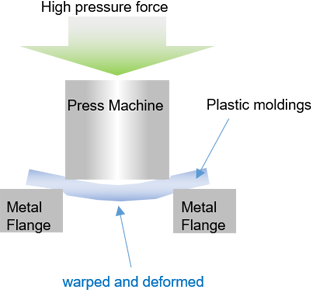 Avio's Solution:
Punching by low pressure force is available by utilizing ultrasonic
vibration.
Processing is available at pressure ranging from 1/4 to 1/6 of the static pressure.
Point
1. Low pressure
Downsizing of press unit → Space saving
Suppression of work warpage and deformation → High quality processing
2. Hammering effect
High-speed and repetitive impact force of vibration from ultrasonic horn vibration is extremely large, as the acceleration is proportional to the square of frequency and is tens of thousands of times the gravitational acceleration. This impact makes it easier to cut the work than simply applying pressure. Friction heat from the impact promotes softening of plastic resin, which promotes good workability.
Applicable models
Related products
Sample Test
We will be pleased to test your sample with our proposed
joining method, and return it with a report.
Click the "Contact Us" button on the right.
(for dealer information, sample test or technical consultation)