Soldering quality of a fine pitch FPC connector is desired to be improved
Pulse heat realizes high quality soldering by displacement control
Challenge:
Frequency of solder bridge increases due to narrow pitch
FPC/connector Au-rich reduces joining strength.
Background
Due to increasing communication volume, output volume of optical communication devices have increased, by which FPC connectors have been adapted. Soldering of narrow-pitch. connectors tend to cause bridging, resulting in poor yield.
When the amount of Au in the solder increases and becomes the Au-rich state, metal compound of Au and Sn increases and becomes brittle, and joining strength decreases. When a large amount of Au is dissolved in the solder, it deteriorates the fluidity of the solder and causes voids.
Avio's Solution:
Displacement and temperature controlled pulse heat unit
eliminates soldering problems.
Soldering is always performed with optimum heating time,regardless of variations in the amount of solder.
Point
1. Displacement control
Thickness of solder is constantly maintained by controlling displacement.
Bridging is suppressed even with a large amount of solder.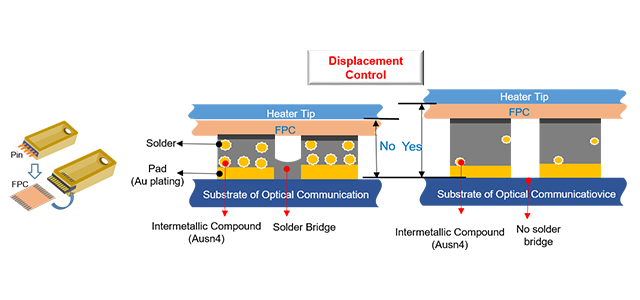 2. Detection of melting solder
By detecting solder melting, soldering is performed in the shortest time, which minimizes Au penetration into the solder.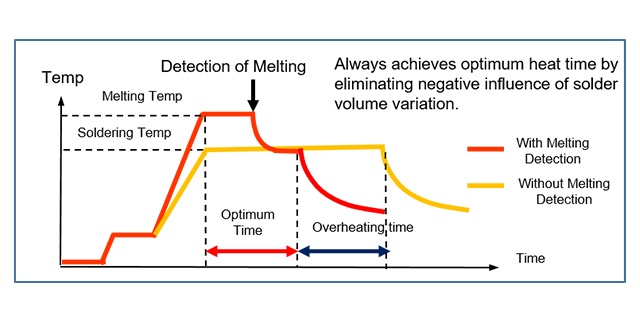 Applicable models
Related products
Sample Test
We will be pleased to test your sample with our proposed
joining method, and return it with a report.
Click the "Contact Us" button on the right.
(for dealer information, sample test or technical consultation)