Ultrasonic Staking is desired to be uniform in work quality
Peak power control for stable plastic caulking
Challenge:
Stable finishing appearance needs to be achieved with ultrasonic plastic caulking.
Background
Finishing appearance varies depending on temperature environment which include seasonal difference (Change of parameter setting is required)
Finish appearance differs depending on descending speed of the horn.
Insufficient calking and excessive caulking need to be prevented.
Avio's Solution:
The peak power oscillation control of ultrasonic equipment
realizes stable finish without excess or deficiency.
Oscillation control that is not affected by season (environmental temperature) and horn descending speed
Point
Stable plastic caulking is achieved by stopping oscillation at peak power
*Peak Power Control
When the boss is flattened out, the load increases as the ultrasonic power increases sharply. When the set peak power is reached, oscillation is stopped and stable plastic caulking is executed without insufficient caulking.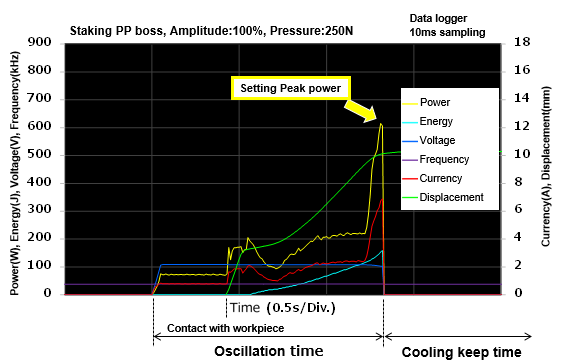 Comparison with the timer control (Oscillation time control)
Timer control is easy to cause over or under caulking due to differences in temperature environment and horn descent speed.

Applicable models
Related products
Sample Test
We will be pleased to test your sample with our proposed
joining method, and return it with a report.
Click the "Contact Us" button on the right.
(for dealer information, sample test or technical consultation)