Traceability is desired to be improved while reducing the cost by plastic welding
Small-sized ultrasonic metal welder with tractability function
Challenge:
Installation cost of ultrasonic welder is desired to be saved.
Also, traceability system is desired to be enhanced
in order to improve quality.
Background
Customers request a product management by a traceability system
Conventional welders including displacement feed-back and monitoring system are extremely expensive.
Avio's Solution:
Solution by systematization of ultrasonic welder SW-D series.
Quality improvement is achieved by strengthening traceability.
Point
Low cost


SW-D series realizes low price (high cost performance) by excellent standard function
Various control capability (Control by using external sensor data such as displacement, temperature)
Enhanced monitoring capability (Good/NG judgement by power, amplitude, as well as external sensor data such as displacement)

Enhancing of quality history management


Welding waveform can be managed by combining with a small press machine and a data logger
Easy data management via Ethernet connection
System Configuration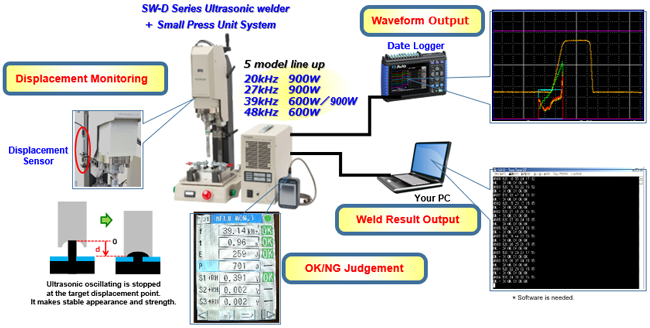 Related products
Sample Test
We will be pleased to test your sample with our proposed
joining method, and return it with a report.
Click the "Contact Us" button on the right.
(for dealer information, sample test or technical consultation)