High-frequency Induction Heater Unit
Metal Materials such as Screws or Nuts are easily Inserted into Molded Plastic Components!
Induction heater units incorporate high frequency generators for non-contact heating of metal using electromagnetic induction.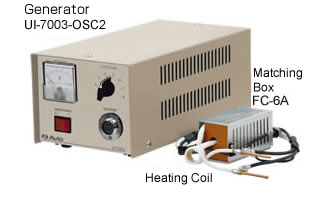 Not Only Steel but Also Brass, which is a Non-magnetic Metal, can be Heated
Compatible to a Work of Φ4 - 30 mm
Unlike the Standard Heater Method, It can Generate Heat Instantly without Pre-heating, which Contributes to Reduction of Electric Power Consumption and Prevention of Quality Change of Metal Parts
Small Size and Light Weight is Realized by the Consolidated High Efficiency Design
Small Diameter Cu Wire and Cu Pipe, Easy to Wind, are Used for the Heater Coil
As the Connection between the Coil and the Matching Box is Made by a Litz Wire, Connection to an Automated Machine can be Made Easily
By Combining with a Non-contact Type Infrared Temperature Sensor, Precision Production with the Least Variation of Torque Strength and Pull Strength can be Made
Insertion Procedure
After induction heating of a metal work, push the work against the hole of a molded plastic product using a punch body, and cool it by air.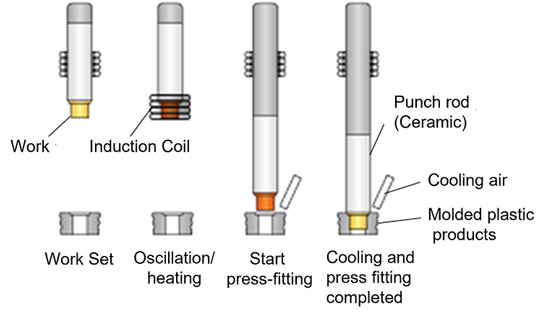 Melting Margin
Make the Hole Diameter of a Molded Plastic Product Smaller than the Work by 0.3 - 0.6 mm
A Screw Guide and a Release Hole for the Melted Plastic will be Required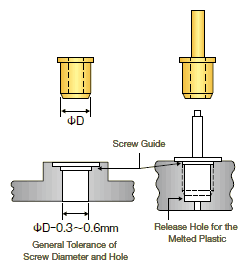 Lineup
UI-3002

Basic Model Most Suitable for Heating of Steel

UI-7003

Standard Model which can Heat Brass by Dial Switching of Matching

UI-9001

High Output Power Model which can Heat in a Shorter Time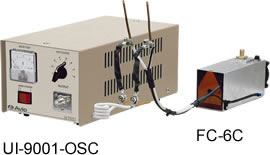 Various Heating Coils
We Offer a Wide Variety of Coils to Suit Your Needs
The Coil can be Replaced by the Customer

Specifications
Items
UI-3002
UI-7003
UI-9001
Output Power
400W
800W
1000W
Frequency
30kHz
60kHz
60kHz
Power Source
AC100V 600VA
AC200V 3Φ 1.8kVA
AC200V 3Φ 2.1kVA
Oscillation Method
Automatic Tuning Hold Master Oscillator System
Coil Diameter/Reels
Φ18mm (Inner Diameter) 7 Reels
Φ20mm (Inner Diameter) 4 Reels
Φ24mm (Inner Diameter) 5 Reels
Generator
Model
UI-3002-OSC
UI-7003-OSC2
UI-7003-OSC
UI-9001-OSC
Cooling Method
None
None
Air
Air
Dimension / Weight
W155 x D265 x H200mm
Approx. 3kg
W184 x D345 x H153mm
Approx. 4.5kg
W184 x D345 x H153mm
Approx. 4.5kg
Matching Box
Model
FC-6
FC-6A
FC-6B
FC-6C
Cooling Method
None
None
Air*1
Air
Dimension / Weight
W110 x D126 x H55mm
Approx. 1000g
W55 x D145 x H60mm
Approx. 700g
W80 x D185 x H63mm
Approx. 1100g
W80 x D185 x H63mm
Approx. 1100g
*1 An external DC24V power supply is required for the activation of the cooling fans.
Click the "Contact Us" button on the right.
(for dealer information, sample test or technical consultation)