YAG Laser Welder
YAG Laser Welder LW-Y8 / LW-Y20 / LW-Y50 / LW-Y150 / LW-Y300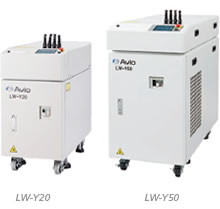 It is Widely Used in Precision Metal Welding!
This is a standard YAG laser welder which is most suitable for precision welding of electronic components.
It is Useful for Wide Range of Applications from Ultraprecision Components to Mechanical Parts
We are offering a line-up consisting of five models
Stable High Quality Welding is Realized
It is equipped with an energy feedback control function
It is Applicable to Multi-point Simultaneous Welding
Up to four branched output is possible
Welding Quality Control is Realized Without Fail
Output energy (J) and average power (W) are monitored simultaneously
| Major Applications | Exciter Source | Laser Medium |
| --- | --- | --- |
| Metal Welding (from ultra-precise components to mechanical components) | Flash Lamp | Nd:YAG Rod |
Oscillation Waveform
Pulse Waveform
Beam Profile

Lineup
Items
LW-Y8
LW-Y20
LW-Y50
LW-Y150
LW-Y300
Max Rated Power
8W
20W
50W
150W
300W
Application
Precision welding of electronic components and medical components
Electronic component field such as termination of coil Cu wire for motors, tab welding for batteries and welding of optical components
It is useful in wide range of applications from electronic components and medical components to automobile components
Features

Deep weld penetration is improved by oscillation of higher brightness laser beam even at the same energy level

Uniform weld penetration is maintained and stable welding can be achieved in continuous output or simultaneous output as well

High and stable output
It is applicable to spot welding of highly reflective material, such as Cu, Al or Au, where high energy level is required and to seam welding where repetitive output is required
Welding Image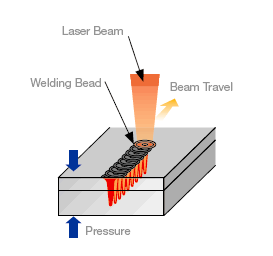 Oscillator Structure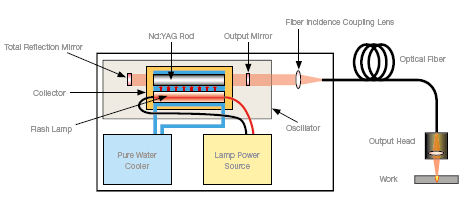 Specifications
Items
LW-Y8
LW-Y20
LW-Y50
LW-Y150
LW-Y300
Wave Length
1064nm
Max Rated Power
8W (Class 4)
20W (Class 4)
50W (Class 4)
150W (Class 4)
300W (Class 4)
Guide Beam
650nm
Max Pulse Energy
8 J/P
20 J/P
50 J/P
70 J/P
Max Pulse Width
20.0ms
30.0ms
Pulse Repetition Rate
0.1 - 20Hz
0.1 - 99Hz
0.1 - 200Hz
Power Sharing
Max 4
Cooling Method
Air
Water
Power Source
AC200/220V 1Φ 8A
AC200/220V 3Φ 18A
AC200/220V 3Φ 25A
AC200/220V 3Φ 48A
Dimension / Weight
W410 x D845 x H790mm 130kg
W530 x D1170 x H1030mm 250kg
W530 x D1170 x H1030mm 250kg
W650 x D1335 x H1045mm 360kg
Branched Version
The laser beam output from the oscillator can be branched and output simultaneously through multiple light paths or output sequentially from multiple light paths.
Branched version can be selected at the time of order placement.
Single Branch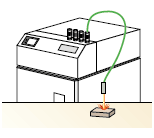 The laser beam is output from one light path
The laser beam of preset value is output
Time Branching (2 - 4 Branches)
The laser beam is output in sequence from multiple light paths
The laser beam of preset value is output by switching the light paths
Simultaneous Branching (2 - 4 Branches)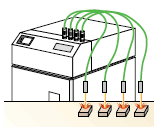 The laser beam is output simultaneously from the branched light path
The output energy per branch equals the value obtained by dividing the preset value by the number of branches
Simultaneous 2 and Times 2 Branches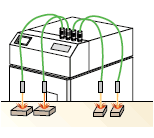 The laser beam is output in sequence for 2 light paths at a time
The output energy per branch equals half of the preset value
Output Head
This is a head to fabricate the work by focusing the laser beam output from the optical fiber
We have different models available including the small sized standard type suitable to be equipped on machines and a model with a CCD camera which enables welding while observing the welding position by a camera
Furthermore, focal length of the output head and lens diameter can be selected depending on the working distance or high repetition application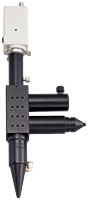 Caution
Our laser welder products comply with the "Safety of laser products" of Japanese Industrial Standards and the "Preventive measures against interference by laser beam", a notice from the Ministry of Health, Labour and Welfare.
When using a laser welder, please make sure to follow the instruction manual and label or caution note displayed on or attached to the product.
Laser Beam
Our laser welder products correspond to class 4 laser. Make sure not to have the beam emitted from the laser welder get directly into your eyes.
Even the reflected light or the scattered light is very dangerous. Be careful not to have the light get into your eyes.
In case the laser beam is irradiated on human body, there is a possibility for a serious interference to be caused. Be sure to wear a laser protection gear within an area where the laser beam may reach you.
Do not irradiate laser beam into the air. Be sure to terminate.
Do not irradiate laser toward an inflammable object. A fire may be caused.
High Voltage
When replacing a flash bulb or removing the power supply cover, turn the power OFF and wait for 5 minutes before doing so.
Be sure to ground the ground terminal of the chassis.
Handling of Laser Welder
Appoint a laser safety administrator.
Establish a laser controlled zone for safety control.
Never modify the equipment.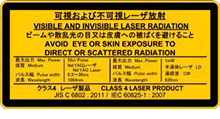 Laser Welder
Click the "Contact Us" button on the right.
(for dealer information, sample test or technical consultation)