In N2 gas Type/semi- Automatic Parallel Seam Sealer
Crystal & SAW, Optical device, Sensor, MEMS
Features
It is a semi-automatic seam sealing equipment that hermetically seals packages such as crystal & SAW devices, optical devices, sensors, and MEMS in N2 atmosphere.
Various Operation modes available for R&D and mass production.
PKG size 2~150mm - Rectangular,round,polygon
Easy Operation & Programming
Automatic program verification
Single head type
Seam sealing power supply
Dedicated seam sealing power supply developed in-house
High speed and suppression of thermal effects

Up slope and down slope
electric current control function.
Monitoring function is equipped.
High performance head
Lightweight head (Min. 300gf)
Soft landing mechanism
Production mode
Standard mode
Fast mode
Teaching mode

Vacuum Oven Chamber
Large capacity chamber: Increased productivitye
High-precision heating: Improved reliability
Lids Supply

Twin head type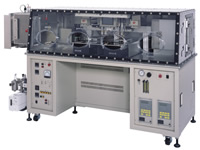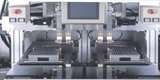 PKG size 2~10mm / Rectangular
Production mode / Standard mode / Fast mode
Automatic program verification
| | Single head type | Twin head type |
| --- | --- | --- |
| Power Source | AC200V 3Φ 30A | AC200V 3Φ 30A |
| N2 Gas | 0.2MPa~0.8MPa | 0.2MPa~0.8MPa |
| Water | 0.2~0.5Mpa 5L/min | 0.2~0.5Mpa 5L/min |
| Dimensions / Mass | 2200W x 940D x 1570H mm 450Kg | 2300W x 800D x 1300H mm 550Kg |
Parallel Seam Sealers
Click the "Contact Us" button on the right.
(for dealer information, sample test or technical consultation)