Food Cutter
Soft and Deformable Food Items are Cleanly Cut Using Ultrasonic Vibration!
Clean Cut Surface
Friction resistance is minimized due to microscopic ultrasonic vibration, resulting in the food maintaining its shape.
Hygienic
No chipping waste during cutting. No food residues stick to the blade by the ultrasonic vibration.
Major Examples of Food Processing

Sweets such as Cakes, Sponge Cakes, Pies, Cookies and Steamed Breads
Bread, Sandwich, Bread Dough
Blade Type
Press type equipped with air cylinder suitable for integration into other equipment or automated machines.
Blade width and thickness are selectable depending on the type of food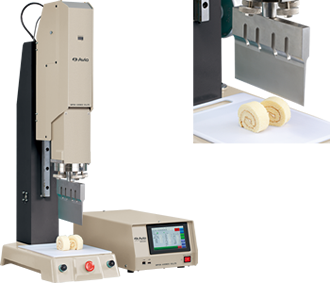 Click the "Contact Us" button on the right.
(for dealer information, sample test or technical consultation)