Ultrasonic Equipment
Ultrasonic Equipment uses Ultrasonic Energy to perform various bonding & cutting functions such as resin welding, resin melt cutting, resin cutting, metal joining and food cutting. The basic components of Ultrasonic Welding Systems consist of an Ultrasonic Generator and the main unit of the welder (press).
Products offered include a wide range of output models from a compact 40W unit to the world's highest in class 8,000W unit to meet customer needs.
Welding, in particular, is the core of ultrasonic processing technology. Because the welding time is as short as one (1) second or so and because the welding equipment can be integrated into automatic machines, it is suitable for mass production applications. Furthermore, as air tight welding can be easily achieved, it is used for large sized container for automobiles and home electronics or processing and manufacturing of packages for food and medical items.
Example Applications for Ultrasonic Equipment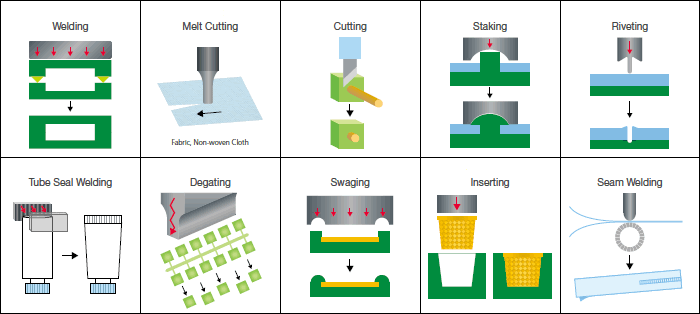 Features of Our Ultrasonic Generator
Our proprietary Ultrasonic Oscillation Generator is named ATHMOS (Automatic Tuning Hold Master Oscillator System)
Smooth, High Speed Increase in Oscillation Energy is Obtained Even during Heavily Loaded Situations
Auto Tracking of Frequency is Quick and in Wide Range
Stable Amplitude (Constant Amplitude) is Maintained within a Wide Load Range
High Power Welding which Requires Large Output and Load is Available
Having Resistance to Change in Temperature and Load, the Welding Quality is Stable and Reliable
Lineup

Click the "Contact Us" button on the right.
(for dealer information, sample test or technical consultation)