Ultrasonic Welder
Ultrasonic welder uses ultrasonic energy to perform various thermoplastic welding and metal joining. It consists of an ultrasonic generator and the main unit of the welder (press).
Products offered include a wide range of output models from a compact 40W unit to the world's highest in class 8,000W unit to meet customer needs.
High power, yet stable oscillation, helps to weld wide area in a short time in one action.
Plastic Welder

Various Oscillation Control and Various Monitor Functions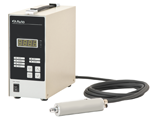 Avairable lineup:
28, 40, 60 kHz
Handheld welder of easy operation.

Useful to Various Applications
Easy-to-operate desk top press type

Ideal for Welding and Staking of Small Sized Parts
Output Power/Frequency Range: 500 W to 800 W; 50 kHz to 20 kHz

Small, Light Weight and Easy Operation Handheld Welder. Offers Continuously Variable Amplitude Time

Small Size Spot Welder with a Miniature Horn. Suitable for Tack Welding of Chemical Fiber or Welding of Miniature Plastic Material Items
Ultrasonic Metal Welder

For Joining Non-ferrous Metal such as Aluminum to Copper


Ideal for joining fine workpieces such as fine wire harness and foil
Click the "Contact Us" button on the right.
(for dealer information, sample test or technical consultation)