Inverter Type
NRW-IN400P
NT-8444A / NRW-IN400P
Program BOX
Easy to use High Performance Welding Power Supply
This product is High reliability inverter type resistance welding power supply which realizes high definition control. Free inverter frequency selection type and 127 step free style welding profile which realize high reliability welding in variety welding scenes. By Program Box that remote control is possible, it will improve more freedom in terms of arrangement of welding power supply in an automated system. Automation machine type welding power supply which equipped high dustproof.
Selectable frequency (2k, 4k, 5kHz)
127 steps (Slope, weld, cool) parameter setting
Variation of weld stop: Less than 1ms
Enhanced dust-proof structure (Dust, oil mist)
Remote control by program box
Multiple power source 3-phase AC200V to 480V
Ethernet Connection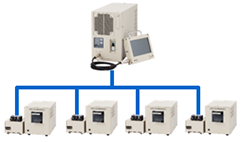 Multi-transformer System
Applicable to be used with maximum 4 trans switchers
Applications
Commutator and Magnet Wire
Copper Terminals and Magnet Wire
Crimp Terminal and Magnet Wire
Inverter Type Welding Controller Specifications
NRW-IN400P
Welding Transformer
NT-IN8444A
Control Frequency
2000/4000/5000Hz Selectable
(Selectable on each PRG.No.)
Control Method
Primary peak current FB/Primary average current FB/Secondary effective current FB/Secondary effective current FB/Secondary effective power FB/Fixed pulse width FB
Primary Max. Output
400A air cooling 5% (200A air cooling 20%)
Number of Weld
Max. 127 STEP (Slope, Weld, Cool)
Breaker Capacity
75A
Number of Program
255 Conditions
User Interface
Program Box
Monitor Function
Average/peak of current, voltage,power, resistance
Average of pulse width
Waveform Display
N/A
Cooling Method
Air cooling
Communication, etc.
Ethernet, CF card
Input Power
3 phase AC200 to 480V ±10%
Dimension / Weight
W186×D490×H279mm / Approx. 18kg
* Power cable/weld power cable / weld sense cable / program controller cable are sold separately
(Please specify length.)
NT-8444A
Rated Capacity
32.6 kVA
Primary Input Voltage
300 V
600 V
Secondary Open-circuit Voltage
14.1 V (at 220 V)
Transformer Winding Ratio
22:1
44:1
Input Frequency
5kHz
Maximum Current
8000 A
Duty Cycle (Weld time)
Air cooling 5% (1000 ms)
Cooling Method
Air Cooing
Dimension / Weight
W200 x D195 x H300 mm / Approx. 22 kg
Options
Program Box
NA-PB100
Trans Switcher
TS-IN044
Welding Monitor
QC-450
NRW-IN4200、NRW-IN8400
NT-IN4400 / NRW-IN4200
NT-IN8400 / NRW-IN8400

Examples of combinations of Welding Power Supply

Graphic Display of Welding Waveform
High Productivity by High Speed Welding!
This model is the highly efficient welding power supply that adopted an inverter. It responds to the change during welding at real time by fast feedback. The highly stabilized welding current generated by the power supply is optimal to the resistance welding for precision electronic parts.
Multi control mode (constant-current, voltage, power)
Pre-weld check function
Long-time welding (maximum 3sec)
400V Standard (NRW-IN8400)
Graphic display of welding waveform on large LCD
Multi monitoring function
Welding waveform-memory function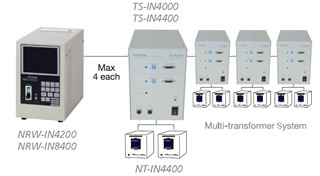 Multi-transformer System
Max 8 transformers (NT-IN4000A)
NRW-IN8400A
NT-IN8444 / NRW-IN8400A

Examples of combinations of Welding Power Supply

5.7-inch color TFT LCD
Most Suitable for On-vehicle Motor Coils Fusing!
This power supply enhances the functions of NRW-IN8400, in order to achieve more stable welding quality.
200V Standard (400V Option)
Current stop function
Pulsation function
CAUTION input function
255 programs
Can be combined with water-cooling transformer.
Specifications
NRW-IN4200
NRW-IN8400
NRW-IN8400A
Welding Transformer
NT-IN4400, NT-IN4448
NT-IN4400, NT-IN4448, NT-IN8400, NT-IN8444
Control Frequency
2kHz
Control Mode
Constant Current, Constant Voltage, Constant Power, Fixed Pulse Width
Constant Current, Constant Peak Current, Constant Voltage,
Constant Power, Fixed Pulse Width
Range of Timer Setting
1st, 2nd, 3rd, UP, WELD, DOWN
Total Time 0.5 - 3000ms (0.5ms Step)
1st, 2nd, 3rd, UP, WELD, DOWN
Total Time 0.5 - 3000ms (0.5ms Step)
Pulsation current function featured
Setting Range for Weld Type
Current: 400 - 4100A (1A Step)
Voltage: 0.400 - 4100V (0.001V Step)
Power: 200 - 8200W (1W Step)
Current: 400 - 8200A (1A Step)
Voltage: 0.400 - 6200V (0.001V Step)
Power: 200 - 24600W (1W Step)
Current, Voltage, Power,
Resistance, Monitoring
Average/Peak/Profile
Trace Monitoring
Current, Voltage, Power, Resistance
Display of Waveform
Current, Voltage, Power, Resistance
Number of Conditions
31
255
Interface
RS-232C
Cooling Method
Air
Power Source
AC200 - 230V 3Φ
AC380 - 415V 3Φ
(Option: AC200 - 230V 3Φ)
AC200 - 240V 3Φ
(Option: AC380 - 440V 3Φ)
Dimension / Weight
W170 x D350 x H265mm ≈14kg
W186 x D490 x H265mm ≈19kg
W186 x D490 x H265mm ≈18kg
NT-IN4400
NT-IN4448
NT-IN8400
NT-IN8444
Rated Capacity
8.8kVA
23.2kVA
30kVA
50.6kVA
Primary Input Voltage
300V/600V
Secondary Open-circuit Voltage
8.4V (220V)
12.9V (220V)
14.1V (220V)
Transformer Turns Ratio
37:1/74:1
24:1/48:1
22:1/44:1
Input Frequency
2kHz
Maximum Welding Current
4000A
8000A
Duty Cycle (Weld Time)
Air cooling 5% (50ms)
Air cooling 5%
Water cooling 10% (1000ms)
Air cooling 5% (50ms)
Air cooling 5%
Water cooling 10% (1000ms)
Cooling Method
Air
Air/Water
Air
Air/Water
Dimension / Weight
W150 x D267 x H210mm ≈12kg
W170 x D312 x H235mm ≈18.4kg
W210 x D342 x H210mm ≈18.0kg
W190 x D322 x H275mm ≈25.6kg
| | TS-IN4000 | TS-IN4400 |
| --- | --- | --- |
| Dimension / Weight | W150 x D245 x H210mm ≈5kg | W200 x D260 x H210mm ≈10kg |
Welding Power Supply
Click the "Contact Us" button on the right.
(for dealer information, sample test or technical consultation)