Basic Configuration of Pulse Heat Unit (Hot Bar Bonder) and Role of Each Part
The pulse heat unit is a device for soldering electronic parts and welding plastic parts. It consists of a reflow head to press the work for applying pressure, and a pulse heat power supply to apply electric current.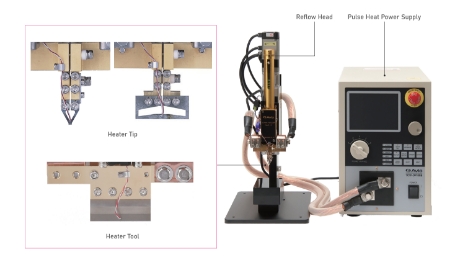 Pulse Heat Power Supply: Electric current is flown to the heater tip or the heater tool.
Reflow Head: The object to be joined is held down and a force is applied. The applied force is adjusted by a spring.
Heater Tip & Heater Tool: This is the part which becomes hot by resistance heating.
The one with a relatively small area is called"heater tip"and a larger area is called "heater tool".
* In addition to the above, we have various monitors which measure applied pressure
Pulse Heat Power Supply
Select a power supply with suitable welding capacity depending on the material or the shape of the object to be joined and the required quality level.
Standard Type
Reflow Head
Select a head having a force suitable to the object to be joined and suitable to the heater tip/heater tool to be used.
Heater Tip Type
Heater Tool Type
Heater Tip/Heater Tool
Select the size and shape suitable to the object to be joined. If necessary, it can be machined for custom shape.
A material to which the solder will not stick and easy to heat with high resistance value is used.
Heater Tip
Heater Tool
Click the "Contact Us" button on the right.
(for dealer information, sample test or technical consultation)