Information on remote welding test
This is a remote welding sample test that utilizes a web conferencing tool to respond to customer voices such as "We want a test while looking at the actual experimental equipment" and "We hope to have technical consultation while conducting an experiment."
We will conduct remote test by connecting the lab room in our Shin-Yokohama facility and customers with the Microsoft Teams.
Clear images from 4K cameras is distributed in real time with full HD. You can check the welding result in detail.
| Call/Chat | Video | Microscopic image | Sharing of the test data |
| --- | --- | --- | --- |
| ○ | ○ | ○ | ○ |
Conferencing system: The Microsoft Teams
Flow of the remote test
1. Please apply for a remote test
Hearing of the welding contents
Selection of the welding method
Adjustment of the schedule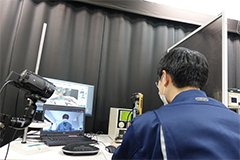 2. What the customer should do
Please prepare welding samples and send them to us.
Please let us know the material of the welding sample, position to be welded, evaluation criteria, etc.
We will send you information about web conferencing (The Microsoft Teams). Please check the environment in advance.
3. On the day of the test
When it's time, please join the web conference.
Welding test
Confirmation of test contents, sample products, etc.

 ・Explanation of test equipment and test flow
 ・Execution of the test
 ・Sharing of the test result
 ・End of the test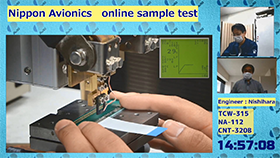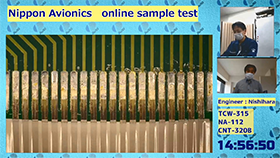 Click here to apply for a remote test
Click the "Contact Us" button on the right.
(for dealer information, sample test or technical consultation)