February 24, 2016
Nippon Avionics Co., Ltd
---
Sharply Imaging Passing Through Flame
Inside of Coal and Oil Refinery Furnaces
Avio Developed Light Weight and Compact
Thermal Imaging Camera
for Measuring Passing Through Flame
Demonstrating the power in ascertaining state of adhered clinker and
diagnosing deterioration of internal facility of furnace
---

Nippon Avionics Co., Ltd. (Head office: Tokyo, Japan. President Katsuhiko Akitsu, hereafter called Avio) launched the portable infrared thermal imaging camera (hereafter called Infrared Camera) Model InfReC R300BP-TF for capturing a thermal image passing through a flame on February 24, 2016. This new product can capture thermal images of wall surfaces and pipes inside of a combustion furnace, by utilizing the outstanding sensitivity of (Japanese-made) Uncooled Infrared Detector.
Normally around 3.8µm wavelength band is used for transmitting through carbon dioxide gas (CO²) generated by a flame and a combustion, when capturing a thermal image passing through a flame by an infrared camera. However the wavelength of infrared camera equipped with "uncooled infrared detector" is 8 to 14μm which cannot pass through a flame. So normally infrared camera equipped with special "cooled infrared detector" is used in order to detect infrared ray around 3.8µm wavelength band but the cooled infrared detector camera is expensive and heavy weight over 3kg, and needs the maintenance cost and its time-consuming that prevent to be popular in the market.
As the latest development, Avio have succeeded in improving optical system of the portable infrared camera (weight only 1.5kg) equipped with (Japanese-made) uncooled infrared detector which provides the sensitivity at around 3.8um wavelength band passing through flame. Utilizing this Infrared Camera makes it possible to image temperature distributions sharply in burning materials and conditions in combustion furnaces passing through a flame. Through development of this Infrared Camera, Avio is aiming to contribute to society in new fields, such as prevention of accidents due to adhered "clinker-mass" (i.e., ashes and dregs adhered to furnace walls) and diagnosis of equipment mounted inside combustion furnaces.
Model and Release
| Model | Sales release |
| --- | --- |
| R300BP-TF | Beginning of March 2016 |
Main features of the new model
1) Maintenance-free operation thanks to a new (Japanese-made) uncooled infrared detector
Measurement passing through a flame is made possible by utilizing an (Japanese-made) uncooled infrared detector with outstanding sensitivity.*1 As a result, the new model features a significantly reduced price and maintenance-free operation comparing with conventional cooled infrared camera. Since replacing a cooling mechanism is unecessary, the infrared camera can be used without worrying about its lifetime, and maintenance cost is lowered accordingly.
2) Making a quick measurement in extremely harsh environments possible by a infrared camera with outstanding mobility and operability in the field
Lightweight and compact body (battery operated) weighing only 1.5kg (including a battery pack excluding a protection shield)
Thermal movie images can be recorded on SD card at max. speed 10 Hz and can be analyzed by software later. In this manner, required data can be recorded in a short time.
A rotational LCD monitor enables images to be captured at various angles.
"Full-auto function" allows temperature scale and focus to be adjusted simultaneously.
3) Folding protection shield included as standard
Imaging is possible while assuring the safety of the operator from intensive radiant heat.
4) Combination with a relay lens inserted in the furnace is available.
A wide field of view (up to 100°) is available through a furnace wall by combination with a relay lens of custom made.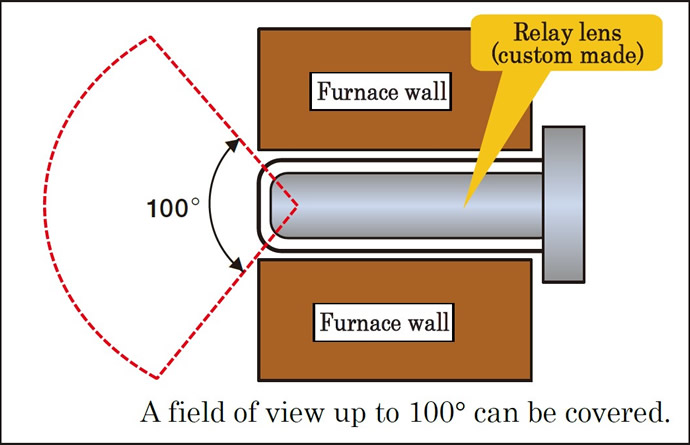 Measuring temperature might be affected by the temperature of the target object and the type of combustion gas. Actual measurement by a demo model is thus recommended.
Others
For Further Information, Please Contact ;
Nippon Avionics Co., Ltd.
International Sales Group, Sales & Marketing Department,
Thermal Imaging Division.
Phone: Tokyo, Japan +81-3-5436-1614
E-mail:product-irc-e@ml.avio.co.jp