Resistance Welding Application Equipment
PWB Repairing Equipment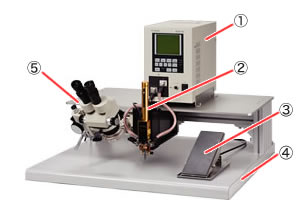 This is the best equipment for repairing fine patterns with transistor type welding power supply.
This is the device that welds a minute lead wire to the substrate by the parallel gap welding process
4. ELP Base, NA-311
Dimention: W760×D760×H238 mm
5. Microscope Set
* In addition to the above, weld cable (SFC-22-300-DD-97) and actuate cable (SH-TR-500) will be required.
Compacting Unit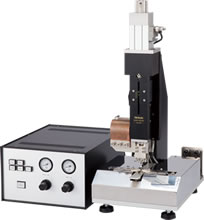 This equipment applies welding to the cores of the insulated cable to each other, and also applies combined tack welding to the terminal of the cable units.
The directly above pressure mechanism prevents the deflection.
Power supply from the jumper reduces the impact of the load from the feed cable, and makes the welding pressure stable.
By using a displacement monitor and force monitor (sold separately), the welding state can be controlled.
Applicable Welding Power Supply
Head
Pressure Range
100 - 600N
Pressure Way
Spring
Driving Method
Air Cylinder
Applicable Electrode Size
Tip width: 0.5 - 2.0mm
Clamp
Clamp Method
Mechanical clamp by air cylinder
Applicable Wire Size
0.52 - 5.26mm2(AWG 20 - 10)
0.5sq - 5.5sq
Dimension / Weight
Head: W300 x D400 x H730mm
Controller: W320 x D430 x H200mm
Approx. 60kg
Click the "Contact Us" button on the right.
(for dealer information, sample test or technical consultation)