Pulse heat fusing of lens
Joining method: Plastic fabrication
Features of pulse heat joining (hot bar bonding)
When pulse heat method is used, where cooling is made while the pressure is being applied, clean external appearance without cobwebbing and highly reliable joining can be achieved.
Temperature feed back system results in stable temperature accuracy even in repetitive operation.
Fixing of lens in camera module / Cross section of lens pulse heat fusing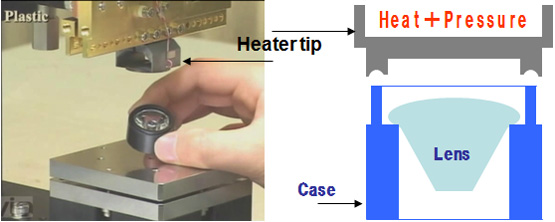 Micro-joining application: Fixing of camera lens onto the case
This is a process to fix lens of CCD or CMOS camera module used in mobile electronic apparatus, such as the digital camera or the mobile phone.
By employing the pulse heat method, heat and pressure are applied via a heater tip and the edge of a case is crushed.
Heating temperature and heating time are superior in terms of accuracy and reproducibility.
Related video
Please be careful for the volume adjustment as this movie contains sound.
Applicable machine models
Sample test
We will be pleased to test your sample with our proposed joining method, and return it with a report.
Click the "Contact Us" button on the right.
(for dealer information, sample test or technical consultation)