Sealing by use of adhesive is desired to be changed to other method
Ultrasonic welding machine that contributes to cost reduction of seal sealing
Challenge:
Seal sealing needs to be done without using adhesive.
Background
Long bonding time
Positioning is difficult and yield is poor
Management cost (Storage of solvent and solution)
Hygiene concerns such as food and medical care
Avio's Solution:
Adhesive-free is achieved by ultrasonic welding.
The base materials are joined together by impregnation welding by ultrasonic welding
Point
Advantages of ultrasonic welding
Short time welding, good reproducibility and good yield.
Management cost is not required.
Since no solvent or no solution is required, it can be used safely in food and medical care.
<What is impregnation welding?>
Impregnating (soaking) paper or non-woven fabric with resin, and joining.

<Point of Joining: Hydro Pressurization>
For soft and heat-sensitive materials such as paper and non-woven fabric, the hydro-pressurization method, in which pressure is gradually increased, is used instead of applying pressure all at once, which result in increasing the welding area and increasing the strength. At the same time, it prevents burns and cracks.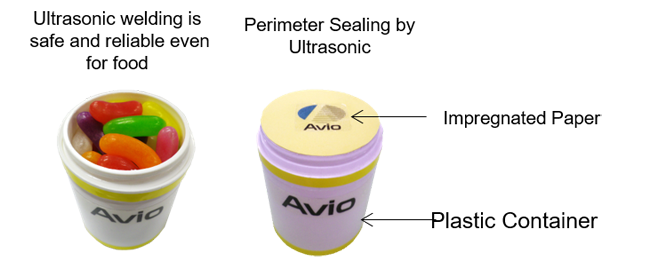 It is effective for welding of insulator (Soundproof and vibration-proof insulation), and vapor-liquid separation membrane.
Applicable models
Related products
Sample Test
We will be pleased to test your sample with our proposed
joining method, and return it with a report.
Click the "Contact Us" button on the right.
(for dealer information, sample test or technical consultation)