Joining quality of stranded wire is desired to be improved
Suggestion to compact stranded wires to prevent loosening of the wires
Challenge:
Welding quality of stranded wires is desired to be improved,
and loosening of wires is desired to be eliminated.
Background
In the case of welding stranded wires, contact status of wires between each other tends to vary leading to unstable welding strength.
Loosened wires may cause shorting.
Loosening of wires may cause less contact surfaces leading to possibility of high resistance value (heat generation).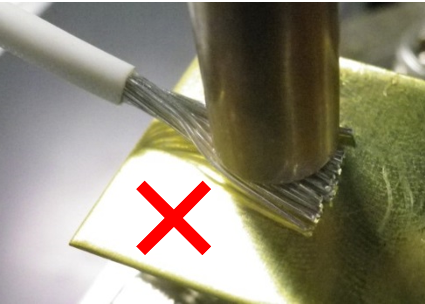 Avio's Solution:
The problem may be solved by applying force, heating and
compacting the terminal of the stranded wire.
The joining condition becomes stable and the welding strength is improved.
It also helps to prevent occurrence of shirt circuit.
Point
By compacting and forming the stranded wire, connection reliability in the next process can be improved.


Important point for selection of the fabrication method between resistance welding and ultrasonic welding.
Point
1. Resistance welding
Joining by fusion. Less possibility for disconnection. Applicable to fine wire diameter.
2. Ultrasonic welding
Solid phase joining. Less possibility for thermal impact. Applicable to thick wire diameter.

<Reference: Cable standard: Wire diameter>
SQ
(JIS)
0.2
2
8
14
22
38
60
100
AWG
(UL)
24
14
8
6
4
1
1/0
4/0
Cross sectional area
(mm²)
0.205
2.08
8.37
13.3
21.15
42.41
53.49
107.2
Applicable models
Related products
Sample Test
We will be pleased to test your sample with our proposed
joining method, and return it with a report.
Click the "Contact Us" button on the right.
(for dealer information, sample test or technical consultation)