Pulse Heat Machine
It can be Applied to Various Types of Equipment!
Desktop Pulse Heat System (Turn Table Type)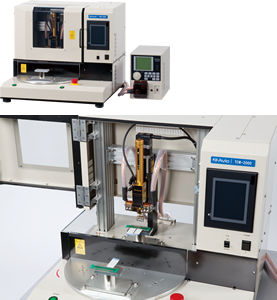 <New Product>
High-precision, High-quality
Thermo-compression bonding with extremely low level of variation can be achieved by systemizing both the temperature control of pulse heat and the motor drive of the system head with resolution of 1μm pulse.
It is suitable for thermo-compression bonding/soldering of fine wire or fine-pitched works.
Enhanced monitoring functions serve to quality control.
Welding Various Types of Works
Up to 7 condition settings can be registered, which enables easy type-switching.
It can weld various types of works by changing the system head (option) and heater tip/tool(sold separately).
Space-saving / High Productivity
Easy-to-install compact desktop device achieves high productivity (cell production) in a small space.
High Level of Safety
The door lock system (Opening and closing door lock), which prevents the heat from being touched by hand when in operation, is installed to offer a superior level of safety.
Items
TCW-2000
Size of Turntable
400mm in diameter
Size of Loading Jig
160mm x 160mm
Stroke
Max.50mm, 1μmSTEP
Pressure Method
Spring
Z-axis Drive Method
Motor
Turntable Drive Method
Motor
Power Source
1Φ, AC200 - 240V 50/60Hz, 3KVA Conforming to CE Standard
Operating Range of
Temperature and Humidity
Temperature: 0 - 40°C,
Humidity: 35 - 85% (No Condensation)
Dimension / Weight
870(W) x 650(D) x 565(H)mm (including Pulse Heat Power Supply)
84.6kg (including Pulse Heat Power Supply and Weld cable)
Options
Tape-feeder, Smoke Evacuator
* System head, Heater tip and Heater tool are not included in this system (sold separately).
System Head
(Option)
Heater Tip Type
NA-111 (Pressure: 0.7 – 5N)
NA-112 (Pressure: 5 – 65N)
Heater Tool Type
NA-151 (Pressure: 1.2 – 7N)
NA-152 (Pressure: 5 – 70N)
NA-153 (Pressure: 20 – 140N)
ACF Thermo-Compression Bonder
ACF Thermo-Compression Bonder TCW-125C
Semi-Automatic Equipment Accommodating the Heater Tool
It can be used for wide range of applications covering from thermo-compression bonding of ACF or heat seal of LCD to soldering
CCD Camera and LCD Monitor can be Connected as Options
Work can be positioned while monitoring the image from the CCD camera
| Items | TCW-125C |
| --- | --- |
| Power Supply | PHU-35 |
| Tap Voltage | 1.0 V, 2.0 V, 3.0 V |
| Heater Tool Length | 110 mm Max |
| Pressure | 68.6 - 833 N |
| Weight | 180 kg |
Examples of Equipment Using Pulse Heat Unit
We can propose an automated system satisfying your requirement. Please feel free to consult with us.

Click the "Contact Us" button on the right.
(for dealer information, sample test or technical consultation)