Ultrasonic Plastic Welding
It is an ultrasonic plastic welder which utilizes ultrasonic vibration energy to perform secondary processing of plastic. It can be used not only for plastic welding but also for various purposes such as plastic caulking, fusing and cutting of non-woven fabrics, hood cutting, and packaging processing.
Nippon Avionics' ultrasonic welding machine (ultrasonic welder) has a wide range of output models from small 40W to the world's highest class 8000W to meet the needs of "joining".
Ultrasonic Plastic Welding

Various Oscillation Control and Various Monitor Functions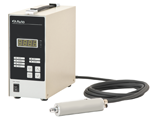 Avairable lineup:
28, 40, 60 kHz
Handheld welder of easy operation.

Useful to Various Applications
Easy-to-operate desk top press type

Ideal for Welding and Staking of Small Sized Parts
Output Power/Frequency Range: 500 W to 800 W; 50 kHz to 20 kHz
Click the "Contact Us" button on the right.
(for dealer information, sample test or technical consultation)