Ultrasonic Handheld Welder HW-D Series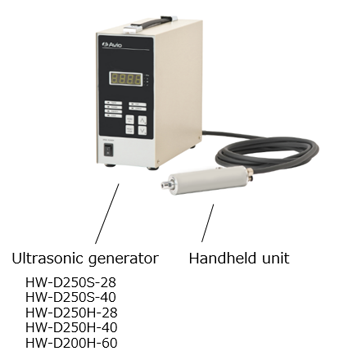 Support reliable "Monozukuri" (manufacturing) Handheld model which contributes to shorten processing time and quality improvement!
HW-D series realizes stable welding at high speed. In addition to selecting the most suitable control mode for the work, welding control is also enhanced.
Furthermore, it is a hand-held type ultrasonic welder that can be linked with external equipment.
Digital oscillation tracking function
Selectable oscillation control mode
Welding result display / Error code display
Many Interfaces
High power 60kHz for fine work
Features
1.Peak power control mode equipped
When a boss is completely crushed in process of plastic caulking, load resistance to ultrasonic vibration increases, which makes sharp increase of power (W). Stable caulking quality can be obtained by controlling to stop oscillation when specified power is reached.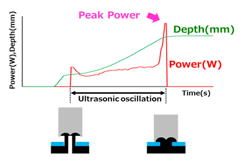 2. Supports minute work (60kHz)
Quick welding start contributes productivity improvement
Suppress buckling of small size boss to contribute to higher yield.

Specifications
Ultrasonic generator
Model
High-end type
Standard type
HW-D250H-28
HW-D250H-40
HW-D200H-60
HW-D250S-28
HW-D250S-40
Maximum output
280W
240W
280W
Rated output
250W
200W
250W
Continuous output
180W
140W
180W
Frequency
28kHz
40kHz
60kHz
28kHz
40kHz
Oscillation method
Digital ATHMOS(Automatic frequency tracking)method
Oscillation control mode

Timer, Energy, Peak power, Continuous oscillation (Selectable)

Setting range
Timer
0.01 to 10.00s (0.01s step)
Energy
10 to 3000J (10J step)
Peak power*
50 to 250W
40 to 200W
50 to 250W
Oscillation
Valiable 30 to 100% (5% step)
Fixed (100%)
Up slope
50/100/200/500ms Selectable
50ms Fixed
Display
7 segment 4 digit LED, Status display LED
Welding result display function
Frequency(kHz), Oscillation time(s), Energy(J), Peak power(W) (Final result)
Protection function
Phase, Over current, FET, Over voltage, Over heat, Over time
Interface
I/O, Analog
Power input
AC100 to 240V single phase, 50/60Hz
AC100V 50/60Hz
Power Consumption
370VA
300VA
370VA
Environmental temprature
5 to 40℃
Environmental humidity
30 to 85%, No condensation
Size
W100×D250×H210mm
Weight
2.5kg
*Peak power is 5W step
Handheld unit
Model
W2005-28-HP-P
W2005-40-HP-AL
MA1P200-60
Frequency
28kHz
40kHz
60kHz
Transducer trigger switch
Push button type
Housing case
Plastic
Aluminum
Hanging hook
Yes
N/A
Transducer cooling joint
Yes
N/A
Yes
Output cable length
2.5m
Outside diameter of grip
37mmφ
31mmφ
Weight
350g
200g
Ultrasonic Welding
Ultrasonic Metal Welding
Click the "Contact Us" button on the right.
(for dealer information, sample test or technical consultation)