Radiation Hardened POL DC/DC CONVERTER
JAXA Qualified EEE Parts SAPJ Series
Features
Point Of Load (POL) DC/DC converter for space applications
Non isolated synchronous buck converter
Low voltage, high current power distribution system for FPGA, MPU and Memory
High efficiency up to 92%
Preset output voltage : 1.5V, 3.3V
Output current range : 0A to 3A (1.5V), 0A to 2A (3.3V)
Input voltage range : 4.5V to 16V
Adjustable output voltage : 1.2V to 3.3V
Output overcurrent limit
Output overvoltage limit
External ON/OFF control
TID : 1kGy(Si)
SEE : 64MeV/(mg/cm2)
Size: 15mm x 19mm (thickness:6mm)
Weight: 7.2g maximum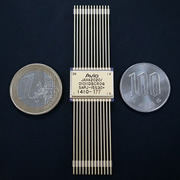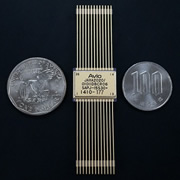 Related Documents
| | |
| --- | --- |
| General Specification | JAXA-QTS-2020B |
| Detail Specification | JAXA-QTS-2020/0101C |
| Application Data Sheet | JAXA-ADS-2020/0101C |
| Application Note | AVPOL-AN-001B |
These documents are available for download from "Database of JAXA Qualified EEE Parts and Materials"
Recommended Operating Conditions
No.
Parameter
Operating Condition
1
Operating Temperature Range (Case)
-55°C to +125°C
2
Input Voltage
+5V
3
Output Voltage (1.2V to 1.8V)
Adjust for SAPJ-15S30
4
Output Voltage (2.5V to 3.3V)
Adjust for SAPJ-33S20
5
Output Current
0A to 3A (Vo=1.2V,1.5V,1.8V)
0A to 2.6A (Vo=2.5V)
0A to 2A (Vo=3.3V)
6
Input capacitor (Chip ceramic)
30μF as a minimum (note1)
7
Output capacitor (Chip ceramic)
160μF as a minimum (note1)
(note1)
At all the usage condition ranges, considering capacitance change affected by such value variations, temperature characteristics and bias properties. From ESR point of view, it is recommended to use multiple fixed chip ceramic capacitors connected in parallel.
Line up
| No. | JAXA Part Number | Model number | Specification |
| --- | --- | --- | --- |
| 1 | JAXA2020/01011DBCR06 | SAPJ-15S30 | 1.5V output |
| 2 | JAXA2020/01011DBCR09 | SAPJ-33S20 | 3.3V output |
Click the "Contact Us" button on the right.