April 23, 2015
Nippon Avionics Co., Ltd
---
Compatible to Precision Thermo-compression Bonding/Soldering by Pulse Heat
Release of
Desktop Pulse Heat System (Turn Table Type)
TCW-2000 for the European Market
Thermo-compression bonding with stable quality is achieved by implementing high-accuracy positioning control and temperature profile.
---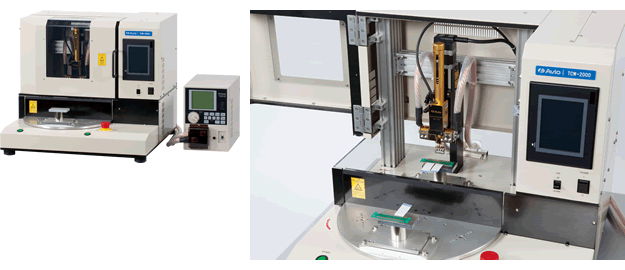 Nippon Avionics Co., Ltd. (Head office: Shinagawa-ku, Tokyo, Japan; hereinafter referred to as "Avio"), a subsidiary of NEC Corporation, is proud to announce the release of Desktop pulse Heat System (Turn Table Type) TCW-2000, which is our long seller pulse heat unit, in Europe on April 23, 2015.
The pulse heat can provide a uniform temperature profile without any variance by feeding back the temperature of the heater tip/tool to the power supply with the thermo-couple and controlling the temperature at high speed.
By combining the pulse heat power supply with high-precision motor head (resolution 1μm), this new product can improve the positional accuracy in the Z-axis direction and keep the most-suitable displacement amount, in addition to the conventional high-definition temperature control function. These functions make it possible to provide a more reliable thermo-compression bonding.
Employing the turntable to allow for easy and safe cell-production of high-definition and high-quality thermo-compression bonding. It will contribute to the improvement of the productivity in various micro-welding status of various fields such as electronics, automotive, medical and energy.
It is a compact, easy-to-setup desktop device and space saving.
Thermo-compression Bonding Applications by TCW-2000
FPC+PWB Reflow Soldering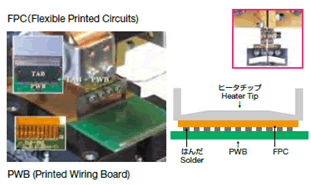 Insulation Wire Soldering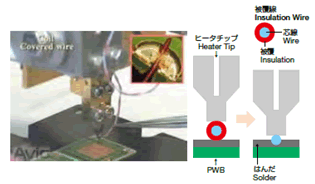 Camera Module Assembly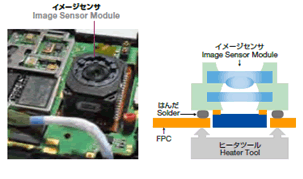 Plastic Parts Fabrication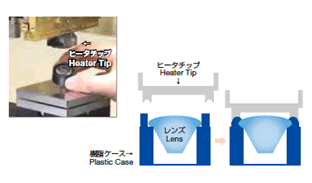 Application Examples
Information devices (Smartphone, Tablet PC), Electronic components, Electric components for automobile, Medical equipment parts, Secondary batteries, etc.
Features of New Product
1. High-precision, High-quality
Thermo-compression bonding with extremely low level of variation can be achieved by systemizing both the temperature control of pulse heat and the motor drive of the system head with resolution of 1μm pulse.
It is suitable for thermo-compression bonding/soldering of fine wire or fine-pitched works.
Enhanced monitoring functions serve to quality control.
2. Welding Various Types of Works
Up to 7 condition settings can be registered, which enables easy type-switching.
It can weld various types of works by changing the system head (option) and heater tip/tool(sold separately).
3. Space-saving / High Productivity
Easy-to-install compact desktop device achieves high productivity (cell production) in a small space.
4. High Level of Safety
The door lock system (Opening and closing door lock), which prevents the heat from being touched by hand when in operation, is installed to offer a superior level of safety.
Sample Welding
Avio offers sample welding service performed by experienced, precision weld engineers so the customer can verify the performance of this system applied to their own sample. Please feel free to apply for this service.
For Questions Regarding the Above, Please Contact
Nippon Avionics Co., Ltd.
Sales Department, Welding Products Division
Phone: Tokyo, Japan +81-45-930-3596
Please contact us from below for details.