December 10, 2015
Nippon Avionics Co. , Ltd.
---
Industry's Most Compact Welder! Current Stop Time Variation within 1 ms.
High Reliability Welding for On-vehicle Motor Coils
Inverter Resistance Welder/Horizontal Pressure Head
NRW-IN8400A/NA-184 Now Available
– Most Suitable for Fusing–
First in the industry!
Up to 24 pulsation settings are possible, and time and output can be freely set.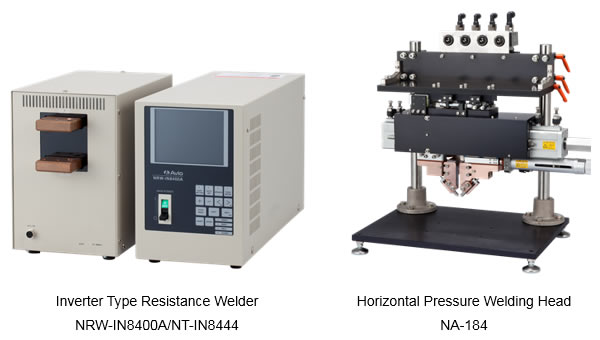 The NRW-IN8400A inverter resistance welder was put on the market on December 10, 2015 by Nippon Avionics Co. , Ltd. ("Avio"), a subsidiary of NEC Corporation (Head office: Shinagawa-ku, Tokyo, Japan). This product is capable of fine, high-quality welding in the manufacture of motors, sensors and other such components. The NA-184 horizontal pressure welding head, which is suited to the welding of perpendicular terminals, is also available, strengthening the product line-up for application to various welding scenarios.
The increasing demand for eco-friendly cars in the automobile market in recent years has driven a need for reduction of vehicle weight, electronification of functions, and greater safety and comfort. As a result, vehicles are being equipped with more motors, solenoids, ECU, and sensors year by year. Improving the reliability of connections for those key components is an important problem, and finer control and quality is particularly needed in the fusing that is typically used for motor terminals.
Using the NRW-IN8400A inverter resistance welder together with a displacement gauge achieves highly-accurate and stable control of the amount of displacement to produce highly reliable connections. Quality control with the improved monitoring functions also contributes to raising joint quality to a higher level. The horizontal pressure head uses spring-based pressure tracking to accommodate deformation and ensure stable weld quality in fusing and projection welding. This product provides a solution for contributing to vehicle lightening and electronification, and to improved vehicle safety and comfort.
Avio offers a comprehensive, world-unique* line-up of precision welding products that covers four welding methods (resistance welding, laser welding, pulse-heat soldering, and ultrasonic welding). We can propose welding methods that produce the best results for weld form, size, strength, appearance and other requirements and propose various welding methods that combine multiple welding techniques to provide solutions that are best suited to customer needs.
*Currently (December, 2015), according to a study conducted by Avio
Welding Applications and Features
ECU Module
NRW-IN8400A/NA-184
Copper terminals and electrolytic capacitor leads
Brushless Motor
NRW-IN8400A/NA-184
Copper terminals and magnet wire
Armature Fusing
NRW-IN8400A/Conventional head
Commutator and magnet wire
Features
Optimum welding without overload
Clean, uniform finish with little excess or insufficient displacement
Variety of built-in monitoring functions for checking weld quality
Special Features
This welder features functions for highly reliable welding, quality control, and operation, contributing to higher product yield and quality.
High weld reliability
1. Highly responsive current feedback control
In addition to the conventional PID type current feedback control, this welder is equipped with a control function based on the peak value of the current waveform to enable a stable current supply when the workload varies as a result of fluctuation in the power supply voltage and heat generation.
2. Actuator stop function (fastest in the industry!)
Stable finished dimensions can be maintained in fusing and projection welding by a mechanism that stops current flow according to position information from a displacement monitor or other such instrument.
Highly responsive circuitry achieves the lowest variation in time to current cut-off in the industry (1 ms or less).
3. Multi-function pulsation function (first in the industry!)
Up to 24 pulsation settings are possible and the current on time and output can be freely set in each setting. This allows appropriate control of heat to achieve better fusing and heat treatment by resistance heating.
4. CAUTION input function (first in the industry!)
The output value for the next weld can be increased or decreased in any number of steps according to a CAUTION input based on current displacement and temperature data (+ : ADDition; - :SUBtraction).
Various uses are possible according to changes in the actual bonding situation. For example, temperature control is possible even in thermocompression bonding without TC. (Control by PLC, etc. is necessary, however. )
5. Input/output monitor function
The state of the input/output (I/O) signal can be checked offline. Because the output signal can be forced to the ON or OFF state, the time needed for a wiring check when the equipment is turned on or for maintenance is greatly reduced.
6. 255 programs
The number of programs has been increased from 31 to 255 (by a factor of 8 for our company) and program switching for fusing in small-volume, many-model manufacturing fusing has been implemented.
7. Pulse width monitor function
A function for displaying the mean inverter output during a weld (PWM width) makes it possible to check for margin up to the maximum output.
8. Simple dust protection
Better protection against dust is achieved by changing the suction method, reducing operating problems caused by suction of dust.
Quality control and operating functions
1. Quality control assisted by a variety of monitoring functions
In the same way as with previous models, external monitors are not used. Secondary current, voltage, power, and resistance data are displayed in graph form for monitoring to enable judgement of weld quality.
The device is equipped with a profile monitor, trace monitor, and limit monitor (average/peak).
2. Easy to operate and easy-to-read screen
The 5.7-inch color TFT LCD is easy to read and simple to operate.
The welding result can be checked by viewing a graphic display on the color LCD.
The operation for setting three welding stages (1st, 2nd, and 3rd phases) is also easily accomplished in a single view, without switching screens.
< Operation Screen >
Sample Welding
Avio offers a sample welding service performed by experienced, highly-skilled engineers that enables the customer to verify the performance of this system when applied to their own sample. Please feel free to request this service.
For Questions Regarding the Above, Please Contact
Nippon Avionics Co., Ltd.
Sales Department, Welding Products Division
Phone: Tokyo, Japan +81-45-930-3596
Please contact us from below for details.